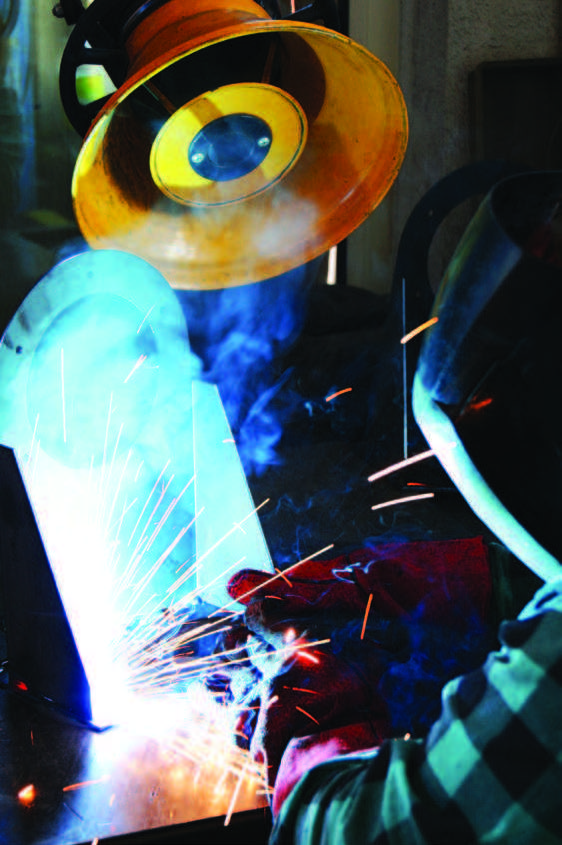 Ductec is a leading supplier and installer of dust and fume extraction systems to customers across the UK.

In today's article, we take you through the range of welding fume extractors and associated equipment available from Ductec.

The use of welding machinery produces metal and dust chips, and can also result in the production of potentially-harmful dust and fumes. It is imperative that, when undertaking welding or other work with metals, you create a safe environment for your staff.

We offer a comprehensive range of flexible fume arms suited to a range of environments, from standard arms designed for trapping airborne contaminants, to welding arms capable of handling fumes, smoke, grinding dust and oil mist.

Ductec's welding tables feature an exhaust fume arm for at-source air pollution mitigation, over and around the welding environment, providing an effective means of capturing airborne pollutants that could be harmful to your staff.

Our flexible fume arms are built to industry-leading standards, and represent a cost-effective method of capturing welding fumes, smoke and light dust. Our flexible hose arms include telescopic extraction arms - ideal for use in small spaces.

Our range of welding fume extractors includes telescopic and stainless steel arms, as well as extension booms and double pivot booms, which are temperature-resistant to 80 degrees.

Mobile filter units provide a flexible means of controlling air pollution during welding at the source.

Ductec's Boxair M1, for example, is a highly effective mobile unit designed to filter dry particles emitted during the welding, and features a choice of 2 and 3 metre fume extraction arms.

We also stock a range of replacement filter cartridges and filter bags, to ensure your extraction equipment can continue to operate efficiently.

Whatever your requirements, Ductec's welding fume extraction systems will reduce the risk of any harmful impact on staff.

Our trained and experienced engineers are capable of installing welding fume extractors that meet all applicable health and safety legislation, including Control of Substances Hazardous to Health 2002 (COSHH) and DSEAR/ATEX regulations.

Ductec supplies and installs a range of associated dust and fume extraction products, including extraction units, quick fit ducting products, mobile filter units, fans, flexible fume arms and a comprehensive stock of mechanical spare parts.

Contact us today to discuss your requirements.